Ready to get started with the Raspberry Pi?
Knowing which Raspberry Pi to buy and where to buy it can be confusing, especially with so many versions and distributors available.
In this buyer's guide, you'll learn why you should get a Raspberry Pi, which one will best suit your needs, and where to buy it.
Why buy a Raspberry Pi?
At its core, a Raspberry Pi is a single-board micro-computer. You can use it to add computing power to virtually any device in your home.
Despite it's small size, the Raspberry Pi 4 is actually a pretty powerful computer, and can even be used to run two 4K monitors at once.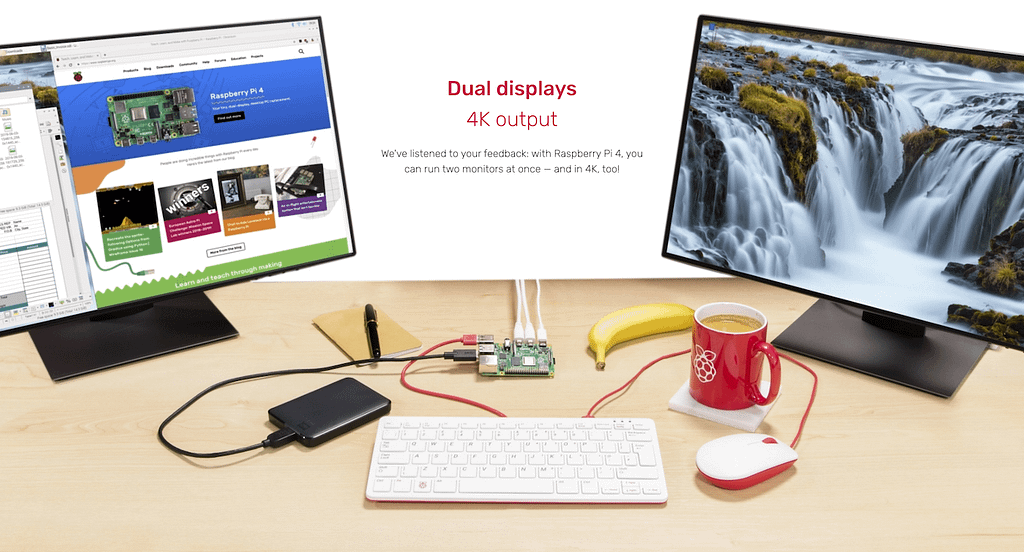 If you wanted to, you could use the Pi as a replacement for a traditional desktop computer.
But what makes the Pi awesome isn't its use as a general purpose PC, but rather its ability to interact with other devices and electronics allowing you to make your own creative solutions to every day problems.
Connect to anything
A lot of people wonder, "what can I do with a Raspberry Pi?"
It's a hard question to answer because there's an infinite number of ways you can use your Pi.
With a Raspberry Pi, you can:
Make a portable gaming console
Automate your home with voice control
Build your own security camera network
And much more
For many projects, you can use the Pi to create much cheaper and more customizable solutions than you could with existing products. But perhaps more importantly, it's a lot of fun!
If you're a curious person and enjoy tinkering with things and learning new skills, the Raspberry Pi will be a treasure trove of new discoveries for you.
Which Raspberry Pi should I buy?
To get the most out of your Raspberry Pi, it's best to go with the latest model. The Raspberry Pi 4 was released in 2018 and is the most feature-filled and powerful Pi to date.
As a first time buyer, you'll have a better experience with a starter kit than purchasing a standalone Pi computer.
Raspberry Pi 4 starter kit
A Raspberry Pi 4 on its own is $35, but unless you already have a spare USB-C charger, micro-HDMI cord, and SD card, you're going to need to buy these additional items anways.
It's much more convenient to get everything in one neat package and the CanaKit starter kit (which I purchased and recommend) includes all these items, plus some nice bonuses like a case, heatsinks, and a cooling fan.
$89.99

The CanaKit Raspberry Pi starter kit includes a Raspberry Pi 4 micro-computer, plus all the other tools you need to get started. This includes:

Raspberry Pi 4
32GB Micro SD card pre-loaded with NOOBS (Pi OS installation program)
Raspberry Pi 4 case
Cooling Fan
3 heatsinks
Micro HDMI to HDMI cable (6 feet)
Raspberry Pi power supply
On/Off power switch
I'm recommending the 2GB option which should be plenty enough RAM for most projects you work on. If you intend to use the Pi for more intensive work (like using it as your primary PC) then it will be worth the extra $30 to get the 8GB model.
Here's what the kit looks like with everything unboxed:
There are just a few other things you might need to purchase to get started.
Other accessories
The first time you turn on your Pi, you will need to connect it to a:
While there is an official Raspberry Pi keyboard and mouse package, you can use any USB keyboard and mouse with the Pi.
Additionally, after the initial set up (which only takes about 10 mins), you can control your Pi entirely from your laptop/desktop using a virtual desktop or remote SSH.
The point is, you only need these accessories for the first time you use the Pi, so you can save some money by borrowing these items from a friend if needed.
Where to buy a Raspberry Pi?
The Raspberry Pi Foundation designs and manufactures the computers, but they don't sell directly to consumers.
Instead, they license the sales to independent distributors like CanaKit. While these distributors all have their own websites, I think it's easiest to simply buy from Amazon.
Get the Raspberry Pi 4 starter kit on Amazon
You won't have to create a new account on another site, and if you're a Prime member, you'll get the free two day shipping.
As of now, you can't buy the Raspberry Pi in-store anywhere.
Get started with your Raspberry Pi
Once you've got your Pi in-hand, you can get started with some projects, or check out some tutorials to learn the basics.
The Pi can be used for so many different purposes and will keep running for years. The sky is truly the limit with how you use it.
If you want to support this site and the free content hosted here, you can use this link to get your first starter kit:
Get the Raspberry Pi 4 starter kit on Amazon
Thanks for reading and if you have questions about buying a Raspberry Pi, please feel free to leave a comment below.